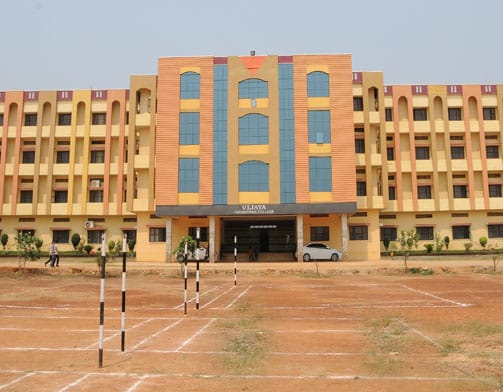 Engineering College In Khammam – VIJAYA
Vijaya Engineering College, situated amidst the plush greenery of Ammapalem Village, near Thanikella (Konijerla Mandal), Khammam District, very far from the unhealthy lifestyles, excessive pollution, unbearable noise distractions, etc. of the urban areas, offers the engineering students with excellent education, to hone their technical skills, and make them successful in the engineering sectors. We are recognized as one of the prominent engineering colleges in khammam.
Located in a spacious 10.6 acres, Vijaya provides vast buildings to accommodate various classrooms, laboratories, computer centers, etc. Due to the imminent features available in our campus, the students are never out of any kind of academic facilities.
Since our inception in 2007, we have turned thousands of students into immaculate engineers. Our teaching staff, who got the highest educational qualifications and years of teaching experience, train the students to make them perfect in all the engineering aspects, and enlighten them with the necessary tips and tricks to help them perform excellently in the academics to acheive best results.
AICTE APPROVED
Vijaya Engineering college is an AICTE Approved college and is considered to be Best B.Tech college in Khammam as per recent survey.
2000+ Engineers
Vijaya Engineering college has graduated more than 2000+ Engineers till date and the college is affiliated to JNTU Hyderabad.
800+ Placements
Vijaya is known for best placement engineering college in khammam in offering excellent training sessions for final year students and has helped more than 800+ students to attain perfect placements.
Vijaya – Student Facilities
Achieve Successful Career at Vijaya Engineering College
College is where you build your future. Join Us Today.
To assist the students effectively, in their journey to the pinnacles of the successful careers, we provide the latest and advanced infrastructure, so that they can utilize these amenities in attaining success in their quests.
I enjoyed studying at Vijaya Engineeirng College as all of my teachers were great and helpful

"The facilities at the Vijaya is impeccable and the variety of services available made me always feel very supported."

Praneeth Kumar
Mechanical IV Year
Vijaya Engineering college offers good placements and the college provides excellent training facility for the students.

Placements & Internships
Vijaya Major Campus Placements Companies