Chairman's Profile :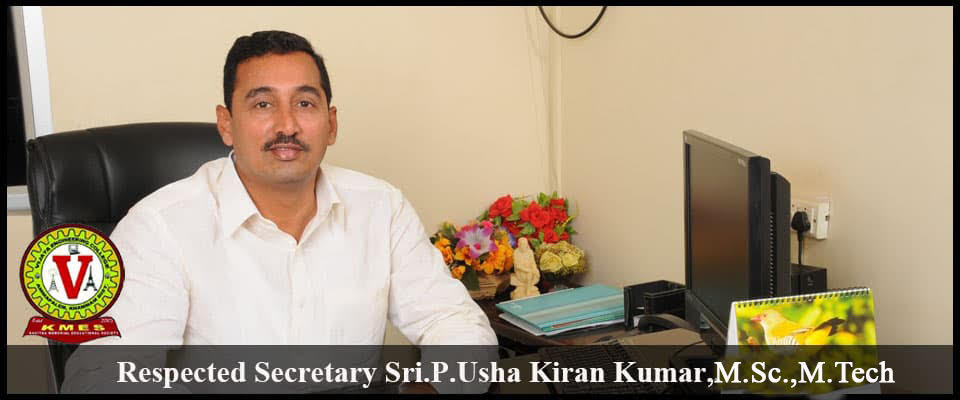 Parupalli Ushakiran Kumar is a visionary academician who needs no introduction to the academic field of Khammam district. He has been the founder of many educational institutes and introduced numerous new courses at UG level like bio chemistry, micro biology; Agriculture branch in Engineering and B.Pharmacy (in private sector) for the first time in the history of Khammam District. He has been striving industriously for providing the quality education in the erstwhile Khammam district for the past three decades. His vision for VEC is to produce competent engineering graduates to meet the industry requirements. It is evident from the fact that Sreekavitha Group of institutions have been the trusted choice of thousands of students till date.
The institutions running under his visionary leadership are:
VIJAYA ENGINEERING COLLEGE
SREEKAVITHA ENGINEERING COLLEGE
BROWNS COLLEGE OF PHARMACY
BROWNS COLLEGE OF EDUCATION
VIJAYA INSTITUTE OF MANAGEMENT
SREEKAVITHA INSTITUTE OF MANAGEMENT
KAVITHA DEGREE & PG COLLEGE
Chairman's Message :
We are heading towards a value based education and establishing our every institution as an ideal place to learn and know where one's knowledge can be applied effectively.The success of VIJAYA lies in the collective effort of stakeholders,faculty and mentors backed by determination of our students and undeterred belief of their parents.
I wish and invite the students and staff "All the Best" on behalf of Vijaya Engineering College