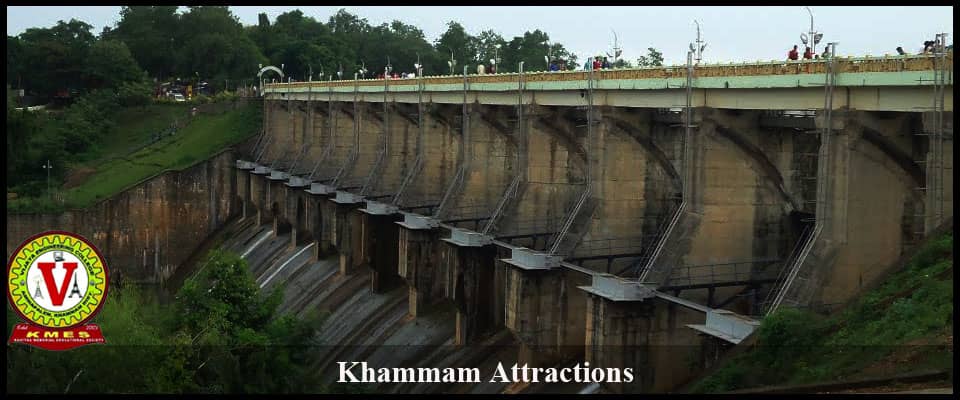 Khammam Attractions
Khammam District is renowned for the exhilarating attractions, particularly for the historical and spiritual temples and centers. A visit to Khammam can take the tourists through the impeccable heritage down the lane, which is bound to cast an attractive spell, and inspire them to visit the place again and again.
Bhadrachalam
Though, there are many historical amusements in this district, Bhadrachalam tops the list, since it is directly connected to the epic, Ramayana. Important incidents took place in this region, according to the history, and Lord Sri Rama had crossed the river at this place for searching Sita Devi, after she was abducted by the demon king, Raavana, and the place was transformed to the famous Bhadrachalam Temple or Lord Sri Rama Temple subsequently by Bhaktha Ramadasu or Kancharla Gopanna. It is a must visit for anyone, due to the heritage, and the beautiful sculptures in the temple, proving to be the epitome of deity, along the river Godavari.
Parnasala
Featuring the most beautiful, important and emotional moments in the history of Hindu Culture, Treta Yuga and Ramayana, Parnasala is the must visit place for anyone. Lord Sri Rama, with his wife, Sita Devi, and brother, Laxmana, had spent many years here when he was sent to exile from the Ayodhya Kingdom. There are places like Radha gutta, where Sita Devi used to dry clothes, and the spot where Lord Rama killed the demon Mareecha, who came to help Raavana to abduct Sita Devi in the disguise of a golden deer.
Kusumanchi
It is the name of an ancient shrine, which has one of the largest Shiva lingam in the Telugu states. To the one side of the temple, there is a large 15ft idol of Sri Venu Gopala Swamy. A must watch for sure.
Kinnerasani Dam and Wildlife Sanctuary
The Kinnerasani Dam is built on the Kinnerasani River in Palvoncha Mandal. It is known for the scenic locations, which mesmerize the onlookers very much. The Kinnerasani wildlife sanctuary near the dam, is immensely popular for different kinds of rare birds, deer, reptiles and other wildlife.
Papikondalu
Papikondalu, the outstanding and absolutely scenic hill range, are located in Godavari River. A memorable tourist attraction for sure.
While the most important places are listed out, there are many other attractions too, which you can enjoy to the core during the visit to Khammam.